Deck and Patio Refurbishing
Refurbishing your deck is great way to enjoy your yard all year long

And with Spring and Summer seems to always be right around the corner, adding a new deck or refurbishing your current one could be the most popular place for your friends and family to enjoy.  
Determining what you want to do with your deck, what is your budget to get the best return on investment.  Adding a deck or refurbishing your current one is only a fraction of the cost of indoor living space making it an asset if you should sell your home.
Since your deck will be used a lot in the spring, summer and fall having it laid out to where it does not take over your backyard, but still fits all of your needs. 
Here are just a few of the things you might want to consider when designing your deck:
Room for a Patio table
Gas fire pit
Hot Tub
Area to sunbath
Easy access to your house
Area to entertain guests
Pergola for shading
Place for a BBQ
Gas line hookup
Storage Area with cushions to sit on
Area for Lounge chairs
Awning for shade
All of these are great ways and reasons to build a new deck.  Patio covers are also a great way to keep your patio or deck shaded and cool during those hot summer months. So, let our professionals install your next patio cover and deck!
Our Deck Services Include
Deck Building and Design
Rooftop Decks
Deck Repair
Deck Expansion
Pergolas Gazebos
Trellises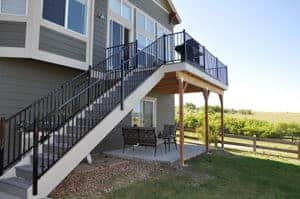 We will work with you to design the perfect deck for your lifestyle, taste, and budget. Whether your deck is a small single-level, for an afternoon barbecue, or a multi-tiered configuration that follows the contour of your property, we can design the perfect deck for you.
Whenever we meet with a customer about a deck, we want to know what you would like to have done, as well as discussing the different design options to consider.  If you have an existing deck and would just like it repaired or expanded, we can help with that too.
Lets Get Started
Let us show you how we can help make your new deck and patio area into a reality. To schedule a free consultation, please give us a call at (303) 829-3374, or fill-out the form to "Get a Quote" and we will get back with you right away to schedule a time to meet.