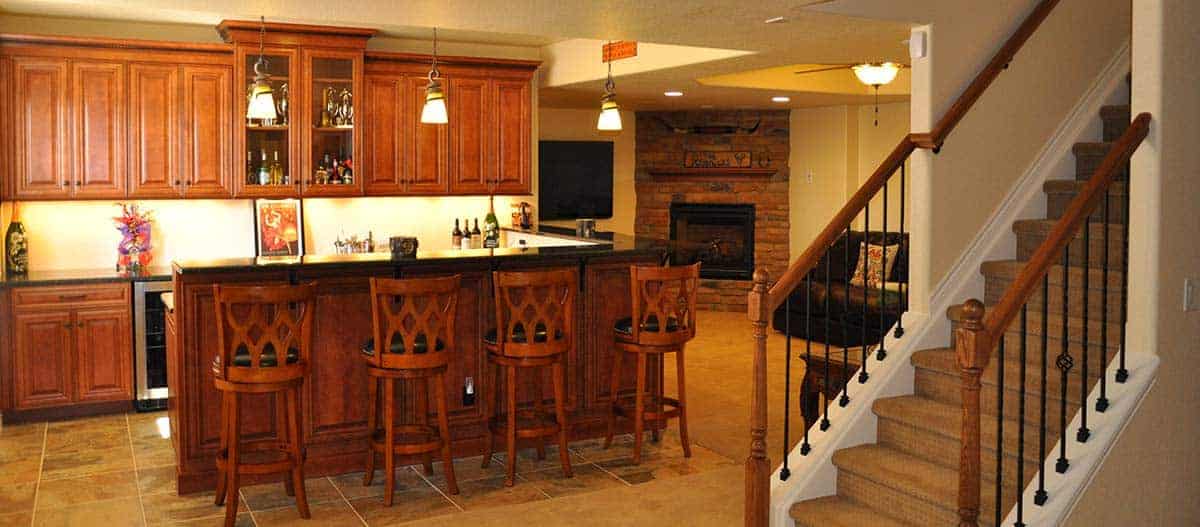 If you are wanting to enhance the entertainment room in your basement, whether it is partially or fully built out, and you are looking to add a wet bar, we can definitely help.
Here are some of the things to consider when having a wet bar added to your basement:
Where in your basement would you like to have a wetbar?
What type of design would you like us to build for you? Will it be sure straight, L-shaped, U-shaped or a free standing island?  All of these are choices that we can create, especially if you already have a design in mind.
Cabinets and Shelves.  Many of our customers choose to add cabinets and shelves behind their wet bar so they can load their liquor bottles, mirrors, pictures, etc.  Based on the type of design you would like, we can provide you with different options to choose from.
Power outlets. We know this is obvious, but it is something that has to be considered.  Most often there will not be power outlets where you want your wet bar so we would make sure that we include it with the design.
Are you going to be adding a sink as well as an ice maker?  If so, drainage, and water lines with proper up to code piping, all of which we are experienced at doing.
Lighting is also an important part of a wet bar.  There are a lot of different types of lighting to choose from, just let us know what you are looking for.  For instance, some of our clients use pendant lights with a dimmer switch. It's great for mood lighting, looks great and will really make your bar stand out.
Definitely want to have bar stools, the question is how many? It's usually between 4 to 6 stools, it really depends on the size of your wet bar which is something we will be discussing with you as we create the design for your basement.
These are just a few of different ways that we can help make your basement into the perfect entertainment area you've always wanted.
Contact us today to schedule a free consultation at (303) 829-3374, or Click Here to email us.