4 Benefits of Basement Finishing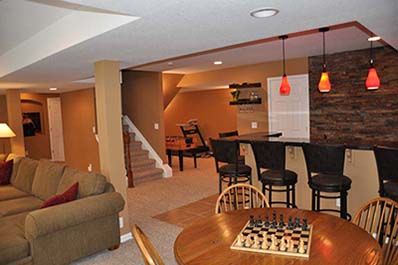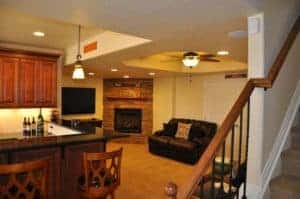 There are a lot of reasons to build out or refurbish your basement area. Many of our Colorado customers are looking to either add more living space to their home, create a play area for their children, add a bedroom or even a workout area. Especially in those colder months, having a basement as a recreational area for your family and you is well worth it. Consider a basement finishing project as a blank canvas that we can work with you to create the basement that you have always wanted for your home.
1. Add a Bedroom or Simple Room Addition
If you are looking to increase the livable space in your home, whether it be because your family is growing and having an extra bedroom with a closet would be helpful, or to add an extra room, office space or even a workout area.
Whether you have a basement that is already finished, and you wish to have a bedroom or just an additional room, we will sit down with you and go over exactly what you are looking to have done and will let you know what it will take to get the project started.
And as mentioned above, it would really help increase the value of your home.
2. An open basement area for recreation, relaxing or storage
Many of our customers have us build out their basement so they can have an area to relax in. It can be a mix of a play area for your children or grand-kids, an area with a fireplace, wet bar and a semi-media room to enjoy a movie or just relax and listen to music. What better way to not only open up your living space but to have it be a functional fun area for everyone.
3. Add an extra bathroom to your Colorado Home
This can be done for a basement that's already built out but does not have a bathroom, or if we are going in and adding an extra room or open basement area, having a bathroom down there as well is well worth the investment.
We can assist with adding that extra bathroom by sitting down with you to get an understanding as to what you want it to have, such as; a simple bathroom with a sink, toilet and cabinets. For others, it could be a large shower that could also be a steam room, double sinks and even a sauna. There are definitely a lot of choices.
4. Increase the Value of Your Home
For most, whenever a basement finishing project is started and completed is not to add to the resale value of your home, but it does. In most cases finishing a basement will give you a return of about to 75% of your investment. The reason for this is that you increased your living square footage, therefore making your home more attractive for someone to purchase.
For details about DeYoung Brothers Construction and Basement Finishing, Click Here, or to schedule a consultation with us please call (303) 829-3374 or

If you are looking to have a basement finishing done to your Colorado home, we service the following areas:
Serving Denver, Castle Pines, Parker, Castle Rock, Highlands Ranch, Lone Tree, Littleton, Douglas County and more.