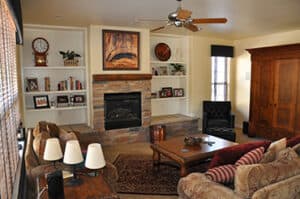 A basement remodel can transform your unusable or outdated area into an entertainment room where you can enjoy quality time with family and friends. A basement finishing job from DeYoung Brothers Construction means you will no longer have to step out to enjoy game day or go to the movie theater. If you are in the Denver metro area, Douglas County or surrounding area, we can create the perfect hub for entertainment right in your home.
With a refurbish basement project, our goal is not just to create a cozy and functional entertainment or media room, but also to enhance your home's value.
Create a Full-Fledged Entertainment Room
Creating an entertainment area in your basement means there will no longer be any battles for what everyone should watch on the TV. You can watch and enjoy the game of the day downstairs with your friends or family. We can help transform your basement into a home theater.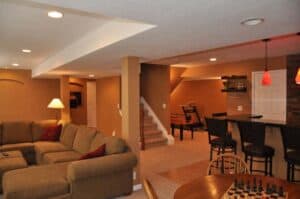 Our basement finishing process is not just about remodeling the space to create the perfect look and feel. Our services are also focused on enhancing acoustics and lighting. So the project will also focus on the following areas:
Covering hard floors with carpets
Adding the right wall panels to reduce echoing
Recessed ceiling lights with a dim feature to adjust the lighting
We have almost two decades of experience in creating a beautiful and functional family room/area. We know what it takes to address the unique requirements of a media room. You will be able to enjoy your favorite shows, live sports events, and movies without any distractions. The lighting and sound effects can also help create a movie theater ambience.
Individualized Basement Finishing Service
Our team will work closely with you to understand your ideas, vision, and project requirements. This allows us to create a clear plan and timeline for your project's completion. Every basement finishing project is unique and involves an individualized plan and design, and the use of unique materials. We can also soundproof your entertainment room so that your family members and neighbors will not be bothered.
If you are interested in transforming your basement into a custom entertainment area, we can help transform your vision into reality. DeYoung Brothers Construction has the experience, expertise, and resources required to create a well-appointed and well-designed entertainment room right in your basement. We service clients throughout the Denver Metro Area, Douglas County and the nearby areas.
If you need more information, feel free to call us today at (303) 829-3374. Or you can email us by Clicking Here using this Online Form and we will get back to you.