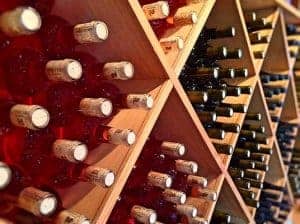 If you enjoy wine and have started or want to be a collector, having a wine cellar built in your basement makes total sense. It allows you to keep the many different vintages and quality wines that you enjoy in your home instead of having to buy them individually for a special occasion.
DeYoung Brothers Construction specializes in basement finishing in Colorado and have built several wine sellers for our customers. We customize the layout and design to your needs with room to grow your wine collection.
Wine Cellar Location
The location of your wine cellar in your basement is crucial to maintaining it at a constant temperature, these are areas that we will cover when we meet.
The main purpose of having a wine cellar located in your basement is that it will keep your wine bottles chilled much easier than the main floors of your home. Whenever we start working on a wine cellar in a basement, the first thing we want to know is how many bottles of wine you are hoping to collect.

How much space will you need
That really depends on you. If your wine collection is between 200 – 250 bottles of wine then a 30 square-foot wine cellar would work for you, and we always want to make sure that we build so that you don't run out of space. The wine cellar would include installing a racking system to store your wine, and a room for your cooling system, which is outside of the cellar itself.
The cooling system
There are specific types of cooling systems used for a wine cellar. It needs to remove humidity, keeping that space dry and to help prevent mold and always keep the room at a constant temperature to preserve your wine. The exhaust room for the wine cellar would be next to it so it does not affect the wine cellar temperature.

This is the fun part, we will go over with you the different types of wine cellars we can do and you may very well have one in mind that you would like us to build. Design will be from the different types of wood, the wine racking system choices you will have, as well as your wine cellar doors.
As far as lighting, we have a lot of great ideas and hardware to choose from, and we make sure not to use the lights that put out heat so it doesn't effect your wine room temperature.
Ready to get started!
If you are ready to plan a wine cellar for your basement, then contact us and we would be happy to go over it with you.
To contact us, please call 303 829-3374 or you can email us by Clicking Here