As all of us know, when fall & winter comes upon us, we tend to spend more time in our home.  That means maximizing the space such as refinishing your basement so that you can enjoy your time there.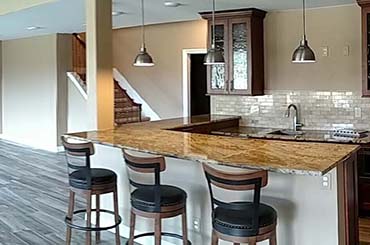 Here are some of the more popular reasons that people have their basements finished and updated:
Family Entertainment
When a basement is finished properly, it is the perfect area in your home to have entertainment for the entire family.  It's ideal for children as a playroom, and/or pool table, ping pong or add a couch and chair with a large TV screen and the list goes on.
Building a Home Gym in your basement
During these times with the Covid 19 virus, more and more people are deciding to work out in their home basement.  The great part of working out in your basement is that they are generally cooler than other parts of the house and it gives a lot  Just let us know where you want it, and then we can work with you to design the perfect gym area for you.
Whether it for a growing family, or just in case guests visit and you don't have the extra space available when they visit is a great reason to add a room in your basement.  If your basement is built out but does not have one, then we can create the perfect additional room with a closet, adding a TV to enjoy while laying in bed, and all the proper electrical plugs and lighting makes for the perfect room to your home.
Bathroom Remodeling and Finishing
Okay, nothing is more frustrating then having to run upstairs to use a bathroom from your basement.  That is when our customers ask us to add a room in their basements, they usually always want a bathroom built as well.  So many choices, whenever we do a bathroom remodel, it can have a sink, toilet, shower or bath.  We can do the same for you.
Adding a Dry or Wet Bar to your Basement
We offer choices to our customers.  We can add a bar without any plumbing but make it a functional entertainment area for your adult friends.   As with most, adding the necessary plumbing for a wet bar so that we can add an icemaker, sink, drains, and even a small refrigerator.  Of course creating an attractive bar, with cabinets, flooring and storage to your liking is what we will do for you.
Lets Get Started
These are just a few of the different ideas that can be done to your basement.  If you would like to meet, please give us a call at (303) 829-3374 or you can email us directly here and will get back with you shortly.